Update
The Gypsy Moth problem was almost non existent in Shamong NJ, in 2011. When will they come back?
A group of trees we missed protecting on our property, back in 2007, are all now dead. This is a group of 11 trees, these being a large oak and 11 surrounding sassafras trees. See photo below. We are planning to have these dead trees removed in the spring of 2012.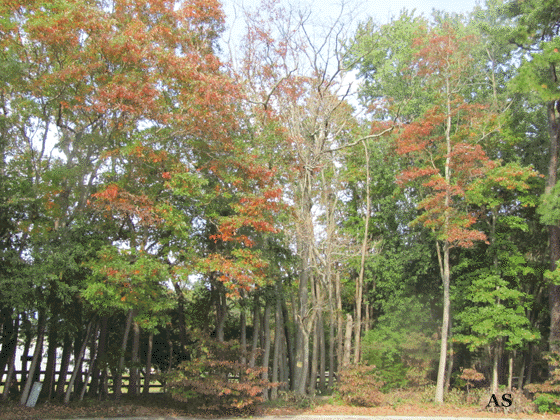 Oak tree and Sassafras trees killed by gypsy moths. These trees will be removed in the spring of 2012.
---
2012 Update
We saw no gypsy moths in our area in 2012.
The dead oak tree and eleven sassafras trees killed by gypsy moths were removed in the spring of 2012, at significant expense.
The oak tree wood was saved, it makes good fire wood, but first I will have to split it.
2013 Update
In 2013 there was minimal to no damage to trees from Gypsy Moths in Shamong Township NJ. However in NJ as a whole, 2,887 acres of forest was defoliated. This is an increase over the 1068 acres that was damaged in 2012, however it is significantly less than the 330,000 acres of trees that were damaged in 2007.